Firstly, congrats to Melanie Trafford Lawson, Carys Powell, Liz McPhee, Fiona Brackenridge and Chrissie Stanborough for winning last week's Prai competition! If you missed out, the great news is the neck set is still available here, or go here to see Prai's fab skincare range.
If you're a Liz Earle fan, though, here's your Early Bird Order link for Saturday's (15th) new Liz Earle Today's Special Value face and body superset, (plus there's a fab Liz Earle comp coming soon!) It's such amazing value, for stocking up, or for gifting, don't miss it! More here from Will and Caroline.
See below for some other sneaky peeks of upcoming deals too!
STOP PRESS – the Sunbuddy is back in stock. This device will help reach the parts which hands can't! Go here to see the video demo of why it's so great to help apply your lotions and potions to your back or extremities! Get yours now!
Kent County Show Highlights
What a busy weekend I had! Here's a little cross-section of pics summing up my fabulous couple of afternoons helping out at the show on the Medical Detection Dogs stand, where I assisted my lovely charity – for which I'm an ambassador. And I tell you what, I admire anyone who does that job! It was so tough being on the ball all day long. Well done to Christina from MDD and also Claire whose alert dog Pal, hubby Steve and son Jed were complete troopers, setting up the stand, manning it, and helping spread the word about these amazing canines.
Go to my full blog about it on my website to see videos of some super highlights, like –
A tour around the ground with a live video I did on the Friday afternoon
meeting radio presenter Erika North and being interviewed on BBC Radio Kent, she's a true QVC fan! Watch to see all the QVC things she had!
A proper TiFFT* – a tiny baby owl video – ahhhhh! Those eyes!
And of course lots of other info about the charity itself.
The fundraising wasn't huge, but contributions after and networking with other stand owners was useful and thanks to Jenny and Jason, Glenys, Alison and Amanda, and of course all the Bodybladers who popped by and helped out after our 'wobble' on Saturday afternoon!
Go here to read the MDD page, all about the charity on my MDD blog, and see more videos.
Claire and Pal Claire's medical alert dog Pal got a lot of attention as usual – he is such a good dog and if you didn't know, alerts her if her blood sugar goes too high or too low. More here about some of the 'client' stories about alert dogs on the MDD website. But of course the other side of the MDD work is studies using detection dogs at the HQ near Milton Keynes for early detection of prostate cancer to be used alongside NHS screening; and in the future, even early detection of breast cancer. If you'd like to donate, you can send a text stating the amount eg 'DOGS21 £5' to 70070. That would be really kind and every pound counts.
Book of the Week = the story of the original cancer detection dog Daisy if you love a good 'tail' – here's, at last, the new release of the full story of MDD founder, Dr Claire Guest's own breast cancer discovery courtesy of her own dog Daisy – and how it led to the charity being formed.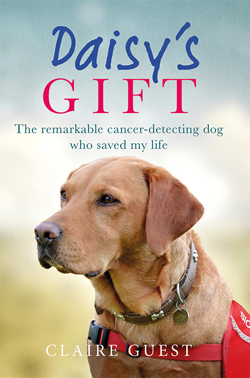 So fascinating – go here to find out howto get 'Daisy's Gift', available online now in hardback, paperback and as an e-book.
Rochester Bodyblade Wobble
Took a quick break from the Kent County Show on Saturday to go meet some very special Facebookers. Had a lovely time at a gorgeous venue with over a dozen of our fabulous Bodyblade gang who got together to record another supersix video – this time, one with just 30 seconds per exercise using the Bodyblade, Bruce's amazing fitness device, and a stretch in between. All courtesy of Bruce, who skyped us live to talk us through it, plus I went live on Facebook during the whole thing! Phew! Well done for Anne and Glenys and co for organising it and we raised over another £100 from a little raffle on the day for MDD too. Well done girls!
See the Rochester Bodyblade video on youtube here. embed pls
And find out more about the event by reading my blog about it, here!
Ridiculous faux pas It did knacker me out though! On the way home on Saturday evening I was so zonked, I stopped off half way to get a coffee, and having taken my mobile in with me, I realised I was a bit pooped when I did theeeeee most stoooopid thing! Find out what it was, along with other info, from last week's newsletter – click here (and when you go there, fill in the pop-up to subscribe to my website newsletter so you will get sent the emails!) Then leave me a comment below if you've ever done anything so silly!
Puffy hand Stayed in the sun too long during the recording though – I could feel my hands starting to burn, and lo and behold, by Sunday evening, they'd all puffed up. Like they've done all my life – regulars will know I have photosensitive skin and can't stay in the sun. That's even with SPF 50 etc. One day I'll find out what my skin is missing but for now, thank goodness for Decleor's Prolagene gel – OMG it was such a calming relief!
Fancy a lush, racy vampire novel for your hols? Book of the week 2, fiction, is 'Revenge is Sweet' from Berni Stevens, fellow Choc Lit author and talented cover designer. It's a super story : Life hasn't been exactly normal for Ellie since she became a vampire. Although joining the legion of the undead was always going to take some getting used to, even if you are the partner of Will Austen, the Elder of London. Book two in the Immortals of London series!  go here to find out more on my Read it Write it Sell it blog.
'Talking of writing steamy novels… for those who didn't realise, I write steamy novels! Lol. My first one was up for an award at the prestigious RNA new writer awards and I was delighted to see pics of the night in the latest Romantic Novelists' Association magazine, including mine on the front right middle – amongst the group of shortlisted authors! Inside, there is also a guide to writing steamy scenes! By me!
Thanks to Adrienne the editor for asking me to put together a series of tips by several other authors of racy novels, go here to read the tips and to see the links to my own book Take a Chance on Me (see below) and its prequel and sequel! As I say – people often ask me if it's based on my own experience, and I say – yes… of reading other steamy novels! Hehe!

'What's your vocab like? Saw this online this week – it caught my eye and not one to pass up a challenge, I took part and was quite pleased! Based on synonyms and antonyms, have a go and see how you get on! Go here.

Top blogger If you love beauty blogs, especially the Back to You Beauty website by my talented hardworking pal Sharon, take one minute to click this link and vote for Sharon's to win category 7! She's shortlisted! Let's make her year, and if you like her blog, go here.
Watch – Trumbo – with Helen Mirren. I missed this wonderful film at the cinema earlier this year so I'm delighted to have found it on catch up. Set in Hollywood in the late 40s and 50s when McCarthyism turned into a witch hunt in movie land, this is the story of a scriptwriter who fell from grace then defied the authorities to turn it all around. Based on a true story, there are some superstar characters from yesteryear, played to perfection by lookalike actors, including John Wayne and Kirk Douglas. Helen Mirren plays (superbly, as ever) Hedda Hopper, a vitriolic gossip columnist with the power to make or break careers at the flick of her pen. Loved it – every bit of it – highly recommended. 8.5 out of ten for the atmosphere and period details. Great performances too.
https://youtu.be/jLuxQhdUqLY&rel=0
Blooper couple of funnies this week again – trust Chloe and Jackie – as usual!
What was that Jackie! Lol!
Best Bouquet yet I loved this one – have kept replacing the roses from my fragrant rose-bush, and it looks like a £20 or £30 one from the florist! Love my garden blooms! Must do another helping of Richard Jackson's Plant Food (one of the best offers is here.) soon!
This week on QVC –
Saturday Today's Special Value – as above – the Liz Earle face and body bumper set!
Sunday – early bird order link for the new TSV Skechers synergy stretch cross weave Mary Jane's
Amazing bargain Tan-Luxe set Tuesday midnight – join Mark and me for a tanned bod this summer!
Doll 10 Timeless Beauty set Today's Special Value Thursday – Doris is back – yay!
Sneaky peek – Lola Rose Rozabel necklace! Saturday 24th – don't miss it!
Next week – I actually have nothing in the diary, how about that! Because I'm writing, writing, writing! But I'm loving some of the feedback from my wonderful girls on Facebook groups at the moment – see Eileen's latest missive below – fabulous! Come join us – links for all my social media are on my page here.
Best wishes – have a great week!
Debs
X
Ps TiFFT = try it for the first time event!
Here is where to go to find out about all my social media, Twitter, Facebook groups for QVC people, brands and my own groups including Till the Fat Lady Slims etc
Here is where to go to find out more about all my books – Top 50 Kindle bestseller Take a Chance on Me, other novels and short stories and anthologies. Plus non-fiction weight loss books TTFLS etc.
Latest testimonials for 'Till the Fat Lady Slims' – my system of changing your relationship with food
From Eileen D
"When I stepped off the cliff of yoyo dieting into the unknown of freedom eating I was hungry for practical hints and tips whilst I devoured book after book following the steer given in TTFLS. At some point I have followed advice and suggestions from everyone who posts, and from those of you who prefer to pm. One tip I just have to pass on today as I have QVC Fashion Clearance playing in the background is to be ruthless, that's capital R Ruthless, with what gets space in your wardrobe and drawers. Anything roomy, anything for big days, undies with tired elastic, bras missing wires, those big jeans you wear for gardening have to go. The dress you bought in the sales 5 years ago and not yet worn has to go. The colours that don't suit you have to go. The colours that make you feel low have to go (even if it was a gift from the Mother-in Law) they have to go. If you have items you absolutely love but are too small they are removed and put in a special storage drawer or box, but anything else too small has to go. Charity shops, e-bay and jumble sales will happily take all your stuff – this is not a wasteful exercise but a very necessary one.

The psychological lift of seeing a collection of clothes that fit, that you like, that are functioning as intended is huge. The daily joy of looking at what you have and deciding what to wear rather than what you can wear is a daily stroke of your self-esteem. Those expensive "comfortable" items are costing you dear in head space. To keep you in enough items as you drop down to your perfect size you can shop inexpensively in the charity shops, sales, etc. but I was surprised how lean the wardrobe can be whilst staying functional and fun. In effect you go from a full wardrobe that is a daily punishment as you see all the stuff you can't wear and the stuff you keep for next time you get that fat again with only a small number of items that really fit now, to a 100% choice. That daily affirmation that you are OK as you pick out your outfit for the day starts the day with acceptance and joy which then sprinkles positivity into everything that you do.

Now I know some of us have a second secret wardrobe of buys we have never worn, the tags still attached, the money spent and wasted dragging a chain round our necks and constantly reminding us that we are profoundly stupid. Choose one item/outfit per size and banish the rest from your home. The ones you keep are there just to mark the passage of sizes, wear them as they fit then get rid. I held a swishing party with my new stuff – invite your pals to bring one or two items they'd like to swap, fill your sitting room and everyone tries stuff on and takes more home than they arrived with (after a few coffees/wine and a good laugh). Any left overs go to the charity shop.

A second head space gain is the practising of letting go. It's no surprise that Frozens' Let It Go song continues to be so popular. I have held long grudges, griefs and memorabilia in the past, letting go not being my forte. My uncomfortable feelings were held in place with eating well past stuffed – and now I surprise myself by letting go with ease. It all started by being Ruthless with my clothes."
What a lovely post, don't you think? If you have any similar thoughts about decluttering, leave me a comment below! Hugs deb x